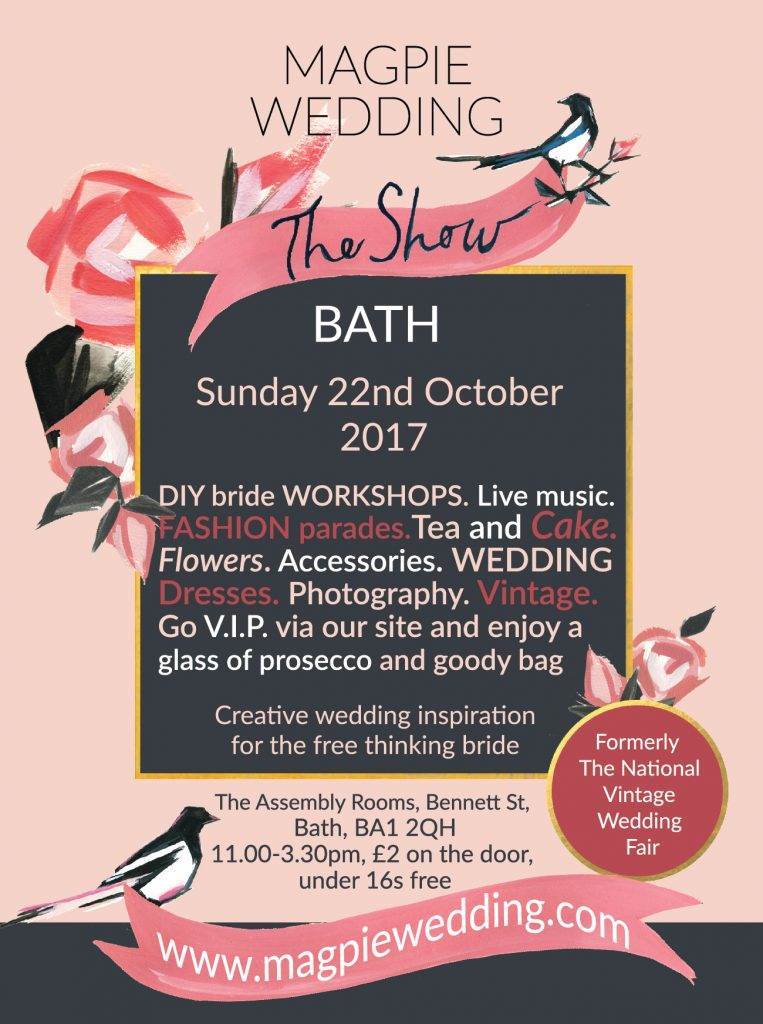 The Assembly Rooms, Bennett St, Bath BA1 2QH
October 22nd, 11.00-3.30 £2 entry on the door or by advance tickets or go VIP and enjoy a glass of Prosecco and the brides gets a bride goody bag. Read on for the full programme.
The Magpie Wedding Show (formerly the National Vintage Wedding Fair) returns to Bath on October 22nd.
Magpie Wedding embraces all things creative for your wedding day; from the flowers to the dress, from the photography to the styling. By creative we mean design led – so whatever the latest trend is, we are there, be it boho, festival or even jungle! We want artisan, unique brides and grooms to enjoy discovering new styles for their day, in a relaxed environment – be it the blog, the wedding show or the directory.
For the vintage lovers out there – fear not, we still are the place to find true vintage and antique dresses and accessories – we will never stop promoting this ethical and stylish way. We were the first vintage wedding fair in the UK and are proud to write about it in the national press.
Each show has fabulous suppliers, a craft DIY workshop or two, a fashion "show and tell" parade, live music, cake and a cuppa, the opportunity to go VIP and above all, an ethos that celebrates you! So no teeth whitening, no weight loss, nothing that makes you feel anything less than beautiful.
BUY YOUR TICKETS HERE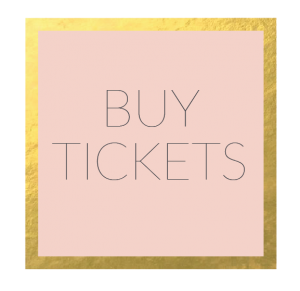 Our Media Partners are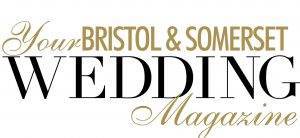 So South West couples, save the date and we will share more news on this event soon. For news on our other shows, have a look at our Events Page.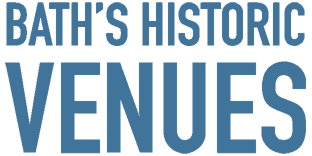 PROGRAMME
Doors open at 11.00 and close at 3.30.
The first 80 brides will get a free copy of Your Bristol and Somerset Wedding Magazine on arrival. The VIP guests will be greeted by bubbly and the bride will get a VIP goody bag with treats in. This includes stationery, macrame, badges, sweet treats and more.
Live music will be played throughout the day by Karen Marie Music. She can be booked for your wedding so come along, listen and maybe have a little dance!
There will be tea and cakes plus other refreshments in the cafe.
WORKSHOPS
We have 2 workshops hosted by Ruth Tilley. Festoon is owned by Ruth, and is an independent wedding stylist and florist based in the Bristol. Ruth specialises in wild, seasonal and foraged floristry as well as having great items you can hire.
11.45: Head Garland Workshop
In this workshop, you will be shown how to make a simple head garland using easy to learn techniques, which are perfect for bridesmaids, flower girls or brides. You will then be able to make your own one to take home and show off, or wear around the wedding show!
12.45: Wool pom pom garlands
In this workshop you will learn how to create a fun garlands using wool, in bright fun colours. They make fab hanging decorations or add them to table displays.
The workshops are free of charge but spaces are limited to 10 at each one. Book your place by emailing uniquebride@outlook.com
There will be live hair stylists and make up artists demos to inspire you by Lisa Ellis
The fashion parade will be at 1.30.
Tickets are available now – VIP tickets get you a glass of Prosecco in arrival and the bride gets a goody bag. You can pay on the door also.